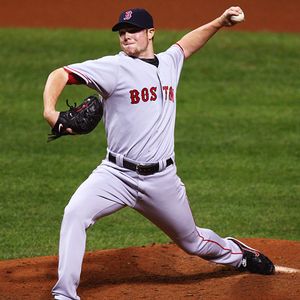 If you didn't know that Jon Lester threw a no hitter last night (the 18th in Sox history), you're probably not a big fan. To that end, I don't have much to add given the fact that everyone has already beat this topic to death. One funny note - as I was watching the game last night, I didn't realize that Lester had a no-no going until he went back out in the ninth inning (already having thrown 113 pitches). I guess Remdawg and Orsillo did a good job not jinxing Lester -- too good in fact.
A few thoughts on Lester's accomplishment:
Congratulations Jon - you've come a long way since battling back from cancer. Most people would be happy to be alive yet you are not only in one of the best starting rotations in MLB, you just accomplished something that has only happened 256 times in history (including your no-no).
I think I'm more impressed by the fact that Jason Varitek has now caught FOUR no hitters (Nomo, Lowe, Bucholtz and now Lester). He almost caught a fifth last year on June 7 (as my wife was in labor with our third child) when Schilling came one out away from pulling it off.
Still wouldn't mind having Johan Santana but the fact two of the key elements of the possible trade (Bucholtz and Lester) have now thrown no-no's makes me even happier that the deal didn't go down. The other player the Twins were drooling over, Jacoby Ellsbury, is third in the league in steals (stole 2nd & 3rd on two consecutive pitches last night - also saved the Royal's one possible hit on a gorgeous diving catch)
Big question now is who the Sox demote if/when Colon/Schilling join the starting rotation full time. I guess Wakefield but even he's been mostly hot recently. These are good problems to have.
Touching that Francona was so moved by Lester's feat last night. I really like Francona as a manager - I think it's the fact that he's human and that he seems to truly care about his players. I've also heard that he's a no bullshit kind of guy behind closed doors which is the way it should be.

Publish Post
Who's going to be next?
*picture courtesy ESPN